If you love snow and cool mountain breezes, then Himachal Pradesh will surely inspire you. The word Himachal means "The land of snows." This place is known for its serene landscapes, snow-capped mountains, and mesmerizing beauty.
The place is enriched by its wide range of flora and fauna. Himachal Pradesh offers you several places to get an escape from the scorching heat. The region is also famous for outdoor sports like trekking and climbing.
You can find no other better place to explore and enjoy the calming view of the mountains than Himachal. It is the ideal destination if you are looking for a summer getaway. With numerous heartwarming places, here's a list of the top 15 places to visit in Himachal Pradesh.
Let's dive into the List of Top 15 Places to visit in Himachal Pradesh
1. Shimla
Shimla was declared as the summer capital by the Britishers. The impact of the British colony is still evident in the place, and you can easily find traces of British sophistication making it one of the top 15 places to visit In Himachal Pradesh. If you are willing to explore spectacular views of the mountains, then this is an ideal place for you.
Attractions
The Ridge and Mall Road
Kali Bari Temple
Jhonnie's Wax Museum
Lakkar Bazaar
Rothney Castle
2. Kullu
Among the frequently visited tourist places – Kullu is a famous name. Situated on the banks of River Beas, this place has got everything to fill your heart with joy. If you are an adventure lover, then Kullu offers you to enjoy a wide variety of adventurous sports and activities.
Attractions
Raghunath Temple
Parvati Valley
Parashar Lake
Bijli Mahadev
Sar Pass Trek
3. Manali
Are you looking for a perfect place to spend a weekend? Then, Manali is your go-to place. It has evolved as a place most loved by the young generation due to its ambient cafes and adorable homestays.
Attractions
Rohtang Pass and Solang Valley
Bhrigu Lake
Jogini Waterfall
Hidimba Devi Temple
Manu Temple
4. Dharamshala
Dharamshala is backed by Tibetan culture and heritage, making it different from all the other Himachal Pradesh tourist places. The place is divided into two parts – Lower Dharamshala and Upper Dharamshala. This place is the best to spend a relaxing and peaceful vacation.
Attractions
Namgyal Monastery and Tsuglagkhang Complex
Triund
Dal Lake
War Memorial
Kugti Pass Trek
5. Dalhousie
This hill station is among the famous Himachal tourist places. Dalhousie offers an old-world appeal, entrancing regular scenes, pine-clad valleys, and heavenly dim mountains. The Scottish and Victorian-period design of temples helps you to remember its provincial legacy. It might be a small town but equipped with the immense beauty of waterfalls, churches, and temples.
Attractions
Dainkund Peak
Khajjar Lake
Chamera Dam
Rock Garden
Moti Tibba
6. Kangra
Kangra is in 6th place on the list of best places to visit in Himachal Pradesh. The place is famous for its history, temples, and fort ruins. You can engage yourself in sightseeing and get indulged in some outdoor sports and adventures.
Attractions
Kangra Fort and Brajeshwari Temple
Kareri Lake
Masroor Rock Cut Temple
Kalchakra Tibetan Temple
Gopalpur Zoo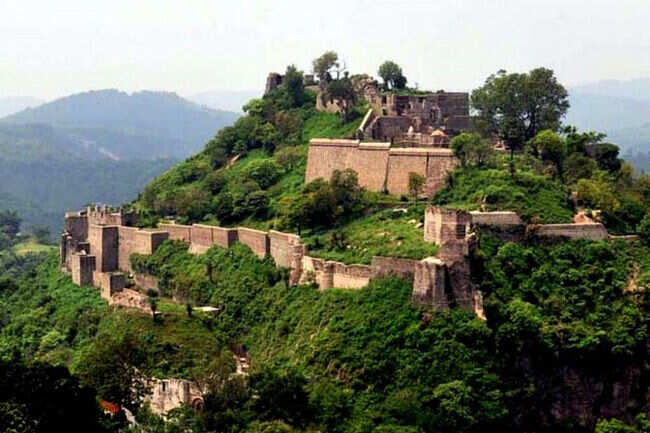 7. Kasauli
If you are searching for an escape from the city traffic, then Kasauli is waiting for you. However, the place isn't about specific attractions or exercises about the wonderful estates to remain in and the tranquil climate. This quaint town is among the beautiful places to visit in Himachal Pradesh and is a paradise for nature lovers and is among the best holiday destinations.
Attractions
Kasauli Brewery and Sunset Point
Sukhna Lake
Mall Road, Kasauli
Monkey Point
Timber Trail
8. Solan
Concealed in Lower Shivalik Ranges in the province of Himachal Pradesh, Solan is an enchanting little town. It is known for its captivating regular magnificence, and quiet energies.
Attractions
Shoolini Devi temple and Dolanji Bon Monastery
Nalagarh Palace
Shoolini Mata Temple
Kuthar Fort
Bon Monastry
9. Chail
Chail is a tranquil slope station close (44km) to Shimla, known for the world's most elevated cricket ground and the legacy inn, Chail Palace, amidst pine and deodar trees. It is encircled by rich plant life and entrancing perspectives.
Attractions
Cricket Ground
Kali Ka Tibba
Stoned Kumbh Shiv Temple
Chail wildlife Sanctuary
Sidh Baba Ka Mandir
10. Parwanoo
This is where one can appreciate the enamoring vibe of a slope station and hustle-clamor of a city. Arranged on the line of Haryana and Himachal Pradesh, this place offers delightful apple plantations and delectable natural product items. Parwanoo is the 10th place to visit in Himachal Pradesh and is an optimal escape for open-air exercises, for example, traveling and climbing.
Attractions
Timber Trail and Fruit Orchards
Shri Balaji Temple
Pinjore Gardens
Gurudwara Nana Sahib
Manasa Devi Temple
11. Kufri
Kufri, situated a good ways off of 16km from the fundamental city of Shimla, is a mainstream vacationer location known for snow-loaded pinnacles, skiing, and Kufri Zoo. Kufri is situated on Mahasu at 2,720 meters above ocean level, and explorers need to climb or take a horse from the parking area to arrive at Kufri.
Attractions
Kufri Fun World and Indira Tourist Park
Indira Tourist Park
Mahasu Peak
Kufri Valley
The Himalayan Nature Park
12. Khajjiar
Popularly known as 'Switzerland of India,' Khajjiar is an unassuming place found close (20km) to Dalhousie and is incredible for a day or overnight outing. Khajjiar is known for its verdant knolls, deodar woodlands, and bungalows. There is a little lake in the glade, and you could appreciate the view without help from anyone else or participate in a portion of the experience sports, including paragliding, zorbing, and horse-riding.
Attractions
Khajjiar Lake
Khajji Nag Temple
Kailash Villages
Panch Pandav Tree
Kalatop Wildlife Sanctuary
13. Kinnaur
Among the 12 districts of Himachal Pradesh, Kinnaur is situated on the Indo-Tibet border. Also known as "Land of God," the main fascination of the Kinnaur locale is the strict "Shiva Lingam," the portrayal of Lord Shiva, and the entrancing stone developments that change its tones a few times during the day.
Attractions
Kalpa and Sarahan
Kinner Kailash
Chitkul
Suicide Point
Rakcham
14. Manikaran Sahib
Manikaran is known as a popular place for the two – Sikhs and Hindus. A decent number of sanctuaries, Gurudwara Manikaran Sahib, and natural hot springs draw pioneers and travelers. One can clean up three natural hot springs, one being inside the Gurudwara itself and the other two being privatized by the guesthouses.
Attractions
Kulant Pith
Harinder Mountain
Prachin Radha Krishna Mandir
Hot Spring
Manikaran Gurudwara
15. Sangla
Sangla is the fifteenth place on the list to visit in Himachal Pradesh. Limited by strong mountain slants, rambling evergreen woods, and snow-covered pinnacles, the valley separates others by its red apple plantation and delicious cherry trees. Baspa River likewise clears its path through the spot, wandering and murmuring, popular for trout fishing. The spot is dabbed with a few attractions from sanctuary and fortification to close towns, making it an astonishing place to visit.
Attractions
Sangla Meadow
Chitkul
Kamru Fort
Baspa River
Samgla Buddhist Monastery
Himachal Pradesh tourism offers you a wide range of amazing places to spend your vacations among enchanting mountains and the serene landscape. The exquisite beauty of the place will surely tempt you. There are a lot of things that you can do here. This list of Top 15 Places to visit in Himachal Pradesh will help while planning a getaway to the mountains.
Add all these places to visit in Himachal Pradesh to your travel bucket list and proceed to explore the hidden gems of this breathtaking state!