There is no other opportunity more appropriate to unwind other than a vacation. It forms the perfect getaway to escape from the everyday monotonous routine. At times, it also turns out to be a saviour while fleeing away from boredom. While there is a galore of places that one can travel to, a trip from Manali to Leh can never be regretful! On one hand, is the tourist town of Manali hidden in the northern end of the Kullu valley and on the other is the ancient capital of the Himalayan Kingdom of Ladakh. While a road trip from Manali to Leh and back to Manali can be very tiresome, it can be rewarding as well. So if you're planning to take a detour to these places, here are the 10 things that you need to know:
1. Distance:
The distance from Manali to Leh by road is 428kms while that by flight is of 216kms only. It takes approximately 10 hours and 45 minutes to complete the journey by road.
2. Routes
There are two major routes while travelling from Manali to Leh by road. One is by HRTC bus or private car/bike while the other one is by the HPTDC Bus. Constructed in 1955, the Manali-Leh highway is the one that connects Manali to Leh. The major portion of the road lies in the state of Jammu and Kashmir while the remaining of it rests in Himachal Pradesh. If one decides to take this road, they will be crossing a total of 5 high-altitude passes.
3. Best time to travel:
Unfortunately, the roads to Leh are only open for about 6 months a year for the tourist on both ways. It starts from mid-May-June first week to about mid-October – November. So the months from June to September should be a secure bet. Although July August being monsoons, it can get a bit dicey on the two passes, namely, the Zojila pass on the Srinagar-Leh highway and Rohtang pass on the Manali-Leh highway.
4. Atal Tunnel:
Constructed by the Border Roads Organization, the tunnel's foundation stone was laid in May of 2002. The main idea behind this tunnel's construction was to have an alternate road below the Rohtang Pass that gets closed for several months during the winters. Located at a distance of 25kms from Manali, the tunnel has proved to be very helpful by reducing the road distance by 46kms between Leh and Manali by and the time by 4 to 5 hours.
5. Inner line permits:
It is mandatory for Indian citizens to carry Inner Line Permits (ILP) and foreign nationals to bring along Protected area Permits (PAP) to travel to Tso Moriri lake, Pangong Tso Lake and Nubra Valley. One can directly head to the DC office in Leh to get the permit. Additionally, there are many tour operators who can arrange for it. Hence it is advisable to keep some extra passport size photographs while travelling to Leh.
6. Altitude Sickness:
Leh is at approximately 3500 metres. Just to get over some passes, if one was to travel around Ladakh, they would go all the way up to 4500 metres. Hence, one is prone to suffer from altitude sickness if proper precautions are not taken. Acclimatization and hydration by fluids and water are some things that one can focus on.
7. Nubra to Pangong:
The distance between Nubra Valley and Pangong is 173kms and this is not your leisure Sunday drive. The initial drive from Hunder to Khalsar is truly picturesque. The road is also well-constructed and the bends keep taking your breath away. From Agham to Shyok Village, the route is mostly a blend of well-planned stretches, passing through riverbeds. Although the curves are not difficult to manoeuvre, they are frequent and the road also happens to be quite narrow. The only factor that acts as a threat on this road is that of a blind corner and the high speed of vehicles.
8. Leh Manali Highway:
Having a length close to 476km, this is one of the most dangerous roads to drive on. Even though the road runs parallel to some of the most picturesque scenarios of the journey, it also gets snow, a few broken stretches and water crossings.
9. Essentials to be carried:
As one starts to proceed from Manali towards Leh, the road gradually becomes a little difficult and one might have to face some tribulations if not prepared. Since the oxygen level lowers down at high altitudes, one may tend to breathe from his mouth while riding on high altitudes. If this happens, one can end up inhaling water vapours that are present in the air. This could lead to the vapours getting deposited in the lungs. Hence it is very essential to use a Balaclava to cover the mouth when riding on high altitudes.
The road from Sarchu to Mandvi across the Rohtang Pass is to be crossed with great care. Therefore it is advised to wear protective gear and keep spare motorcycle parts.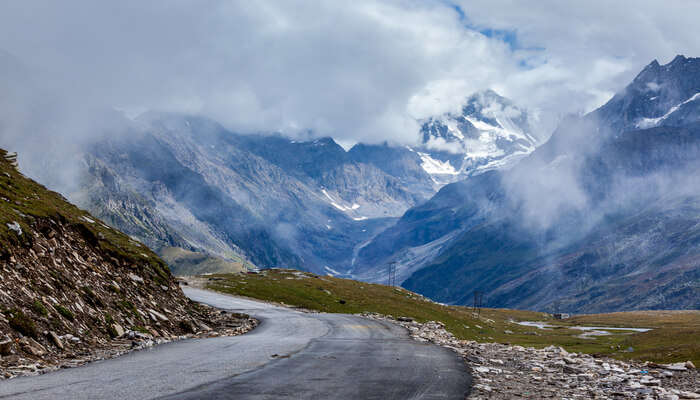 10. A brief itinerary:
A road journey to Leh Ladakh involves more than simply breathtaking scenery, off-roading, valleys, lakes, and mountain ranges.
It's also about experiencing days on the road with folks, like-minded individuals with whom you'll spend hours when there's no network, interact when there's nothing else to do, tell stories when your phone's battery is low, admire the stars near the lake when there's no light…
Arrival in Manali, group briefing, and introduction:
Arrive in Manali and check into your lodging. Meet the trip organizers at the hotel. The day will be an acclimatisation day before one embarks on the expedition to the Himalayas the next day. The guests are free to explore Manali, although they are urged not to overexert themselves. Hadimba Temple, the local market, and café hopping in Old Manali are a few of the attractions in Manali. If one plans to go by bike, they better stay at Manali until the next morning.
Manali to Leh:
A road drive from Manali to Jispa takes people to the majestic Himalayas and the freezing desert of Leh. They can then leave Manali after having breakfast and arrive at Rohtang Pass around 2 hours after crossing Madi. After freshening up, convening for a cup of tea or coffee, followed by a campfire and dinner would be perfect.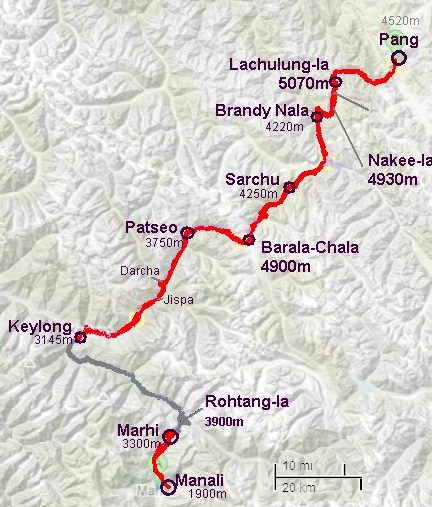 Jispa to Leh:
The longest route on the Shutterbug tour is from Jispa to Leh, which takes about 9 hours and 9 minutes. It is perhaps the most popular among shutterbugs attributed to its beautiful countryside. This route will include visits to Baralancha-la, Tanglangla, Moore Planes, and Upshi. It is advised to stop along the road to take a peek at some of the most breathtaking views.
Leh is a destination that everyone will want to visit. The iconic Stok Kangri Peak is the highest point in the Stok Ranges, Shey Palace, Thiksey Monastery, Magnetic Hill, and Pathar Sahab Gurudwara are all worth visiting. If one feels exhausted at any moment, don't exert any stress on the body.
Way to Nubra Valley:
After breakfast, board the BRO to the Khardungla Signboard and continue to Nubra Valley, crossing by the Deskit Monastery on the way. You may even go on an ATV ride in Nubura, freshen up, and afterwards ride a Double Hump Bactrian Camel. Don't forget to click on this yet another mammal located in the icy desert. It was formerly used to transport commercial goods along the Silk Route.
Pangong Lake is one of the most beautiful & scenic high altitude salt water lakes in India. Scenes from some of Bollywood's most acclaimed movies such as The 3 Idiots and Jab Tak Hain Jaan have been shot around this lake. One-third of this lake is controlled by India & the rest two-third lies under the Chinese province. Check In to the campsite and later go for a stroll around Pangong Tso, probably the most scenic place during the whole journey.
Back to pavilion:
After breakfast, one can check out from camps for the return journey. This journey will be 225km while the time taken to drive will be 7 hours. Once again, one will be crossing several high altitudes passes. About 20 km before reaching Leh, on the route to Hemis Monastery, one can visit the 3 Idiots school. In the evening, one can curl up into the cosiness of a warm cup of coffee and explore local cafes.
This is the same route that is taken on Day 3 while coming from Jispa to Leh. There is so much to see on this route and is rightly loved by the shutterbug, riders, traveller community for the amazing snow-clad mountains, landscapes & roads. Before finally arriving at Sarchu and not missing the Gata Loops, one will be crossing Upshi, Tanglangla, Moore Plains, Sarchu, Baralacha-La.
Keylong to Manali is the last pass of a three-day trek in the Himalayas. Keylong (the administrative centre of Lahaul & Spiti district) is the first stop for the tour, followed by Rohtang Pass, Madi and finally arriving at Manali.This commences the idyllic trip from Manali to Leh.
Hence, this completes the list of 10 things that one needs to know while travelling from Manali to Leh!