Hotels in Kochi, Queen Of The Arabian Sea
Hotels in Kochi swarm with backpackers to vacationists and it becomes a gruelling task to find out a place of accommodation, well within your budget and not compromising on any views of the tranquil backwaters.
The Queen of the Arabian Sea has made its mark on the global level as a place worth visiting at least once in your lifetime. A trip to Kochi can take up any shape as you like.
Owing to the sights to watch and activities that could be performed here, it can be a romantic, family or heritage trip. So here is a list of the 10 best budget hotels in Kochi to make your planning much easier!
1. BTH Sarovaram
Managed and owned by the BTH Group, this alluring hotel in Kochi is built on a lush property glossing over the calm backwaters. It is set far away from the bustling city of Kochi. This hotel has 66 rooms and provides pure vegetarian food options. Guests are also privileged to make complete use of the amenities provided at the Rao business centre along with the Badettu restaurant and coffee shop.
The resort's business centre also has a wide range of banquet halls and conference rooms. You can also choose to rejuvenate by paying a visit to the massage centre or take a stroll near the peaceful backwaters.
The hotel also arranges tours and travel excursions to roam around in Kochi. BTH Sarovaram is sited on the Kochi-bypass highway and is less than an hour's drive from the Kochi International Airport. The Ernakulam Junction Railway Station is only 25 minutes away from the hotel.
Location
NH 47 Bypass, Service Rd, Kundannoor, Maradu, Ernakulam, Kerala 682304
Tariff
Starting From INR 1643 Per Night
2. Namaste Fort Kochi
Flushed with modern amenities, the Namaste Fort Hotel in Kochi is an ideal place to accommodate yourself while in the city. It happens to be at a distance of only 860 metres from the Mahatma Gandhi Beach. The place also allows you to attend yoga and meditation classes and also helps in organising sightseeing and backwater tours.
Location
1/1132 d Kitkat road Near Njaliparambu Junction, Ridsdale Branch Rd, Kochi, Kerala 682001
Tariff
Starting From INR 799 Per Night
3. Tea Bungalow
Built in 1912, this hotel in Kochi was previously run and owned as an office and workshop by United Carpets. It was a UK based company and handled the business of manufacturing and exporting spices and coir. Later, in 1956, Brooke Bond, a tea manufacturing company purchased the property and changed its name to Brooke Bond Bungalow.
The space housed various dignitaries and top management staff for important meetings. Due to its long history and association with the commodity, it came to be known as the Tea Bungalow.
Location
1/1901, Kunnumpuram Rd, Kunnumupuram, Fort Kochi, Kochi, Kerala 68
Tariff
Starting From INR 2786 Per Night
4. Tissa's Inn
Nestled in the colonial city of Fort Kochi is the phenomenal hotel of Tissa's Inn. It is well within the vicinity of the Chinese Fishing Nets.
The mansion is at a 1-kilometre distance from Fort Kochi Beach. The place provides free parking and also has a rooftop pool. Housed inside a mansion, the inn also provides its guests with a yoga and meditation area.
Saint Francis is 1kilometre and Fort Cochin Bus Station is 500 metres away from this hotel in Kochi. Air-conditioned rooms, en suite bathrooms and a cable T are a few of the many services offered by Tissa's Inn. Delicious Indian and European cuisine is provided along with the option of room service.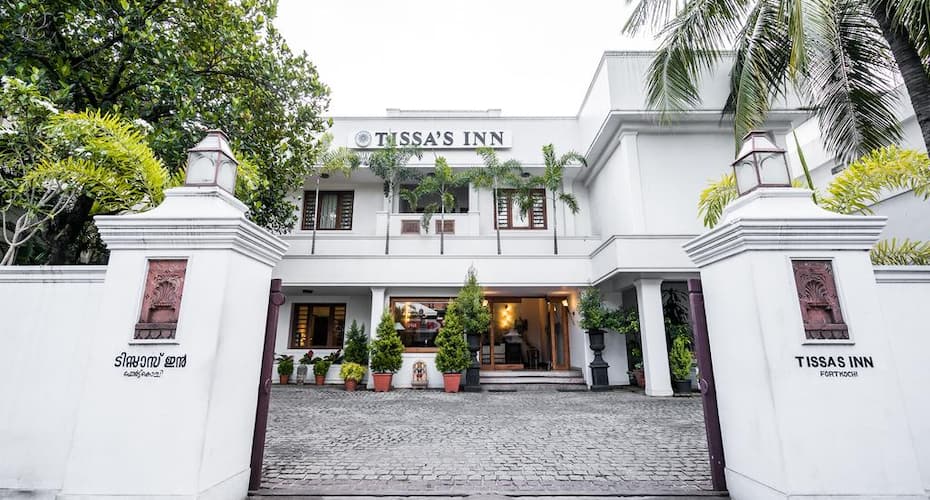 Location
1/1128, Kunnumpuram, Near Canara Bank, Fort Kochi, Kochi, Kerala 682001
Tariff
Starting From INR 2786 Per Night
5. Raintree Lodge
Less than a kilometre away from the Kochi Biennale is the Fort Kochi situated Raintree Lodge. This budget-friendly place has spots such as Santa Cruz Cathedral Basilica, Princess Street and Vasco Da Gama Square located close to it. The accommodation features, an ATM, currency exchange and a 24-hour front desk.
Location
X67R+RJ8, Fort Nagar, Fort Kochi, Kochi, Kerala 682001
Tariff
Starting From INR 2352 Per Night
6. FabHotel Illam Kochi
This 3-star air-conditioned hotel in the district of Ernakulam in Kochi also lies in the vicinity of many spots worth exploring. They include the High Court of Kerala, Centre Square Mall and Ernakulam Public Library. Each bedroom has free Wi-Fi access, a flat-screen TV and a private bathroom.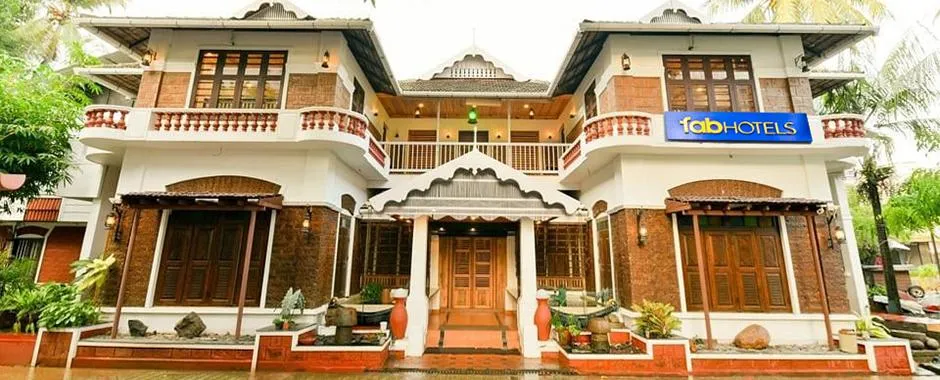 Location
41, 1869, Chittoor Rd, near IDBI BANK, Simla Garden, Kacheripady Junction, North Kaloor, Kacheripady, Kochi, Kerala 682018
Tariff
Starting From INR 1554 Per Night
7. Zostel Kochi
Zostels all over the country have built up their reputation for being a backpackers paradise so does the one in Kochi live up to be. The city attracted myriad travellers from all over the world. These travellers were of Dutch, Portuguese and French origin.
Now, nestled in Fort Kochi, this hotel in Kochi continues the legacy of the city. It has mixed as well as female dorms along with private rooms. A small cafe is also sited in it.
Location
Fort Kochi Police Quarters, Kochi 1/751A,1/2047 Police Quarters Lines Near, Kochi, Kerala 682001
Tariff
INR 798 Onwards Per Night
8. Palm Grove Service Villa
If it is a pocket-friendly hotel in Kochi that offers pleasant vistas of the town and serves home-cooked meals that you are looking for, then the Palm Grove Service Villa is precisely your go-to place!
The humble setting, traditional flooring patterns, breezy and ventilated rooms give you the feeling of residing in a vernacular Kerala home.
If you are an early bird, the common verandah is a place where you can practice some yoga in the morning and, if you happen to be a night owl, this communal space is the same in which you can sip some warm coffee peacefully.
Location
Market Rd, near MAJ Hospital, Edappally, Kochi, Kerala 682024
Tariff
INR 1200 Onwards Per Night
9. Ecolodge Kochi
A pocket-friendly hotel in Kochi, it is located at a distance of 2.3 km from the Bus Stand, 3.6 km from Ernakulam Junction and 33.7 km from Cochin International Airport. Equipped with modern facilities such as air conditioning, ironing boards, coffee or tea maker, electronic safe and satellite television, the rooms here also have an attached bathroom with all the necessary toiletries.
Tourists can unwind at popular visiting places such as Hill Palace (13.5 km), Paradesi Synagogue (12.2 km), Santa Cruz Basilica (7.2 km), Mattancherry Palace (12.4 km) and St. Francis Church (8.7 km).
Location
40/4969-A, Basin Rd, Kacheripady, Ernakulam, Kerala 682031
Tariff
Starting From INR 1668 Per Night
10. Vedanta Wake Up! Fort Kochi
This is not your regular hotel but more of a hostel. This unusual hotel in Kochi has common living rooms along with dorm-style dining rooms. Communal fridges and game rooms also form a part of this place.
The patio on the outside forms a space where you can have a hot cup of coffee and endlessly talk with fellow travelers. What makes Vedanta Wake Up! so special is that you get to meet new people and listen to their stories.
Although this hotel is designed for hitchhikers, along with dorm-style beds, it also has private quarters. The dormitories have lockers and bunk beds while the normal rooms have dressers and regular king-size beds. A few dorms also have mixed-gender accommodations.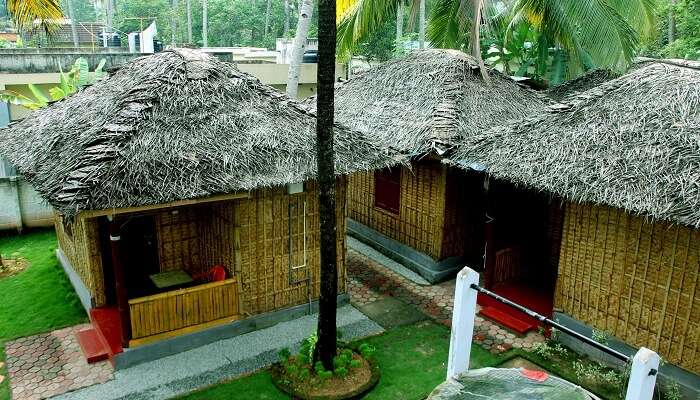 Location
Building 507, 1/506-A, Cyrils Estuary, Bellar Road, Kochi, Kerala 682001
Tariff
INR 830 Onwards Per Night
Not Just Hotels
These are not just places of accommodation but spaces in which you will make tons of memories and cherish for your entire life! The best part about them is that they do not compromise on you happiness in any way and remain well with your budget. So, the next time you plan on visiting Kochi, make sure to check this list out!